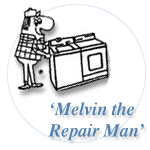 Chicago Appliance Service has been providing honest, reliable and affordable service since 1957. We take pride in being one of the oldest appliance service companies in Chicagoland. We provide professional repair service on most makes and models of major appliances including refrigerators, freezers, dishwashers, ovens, ranges, ice makers, microwaves, washers, dryers and garbage disposals. We repair standard residential through commercial grade appliances - both freestanding and built in units & we work on old and new models alike.
Chicago Appliance Service serves the Chicagoland & Suburban area. See our zip code and neighbrohood listings
click here
.
Our Repair Technicians are trained professionals who will provide you with knowledgeable, courteous service.
We offer Same Day Service and a 24 Hour Answering Service, with Live Operators, 24 Hours A Day - 7 Days A Week.
Chicago Appliance Service includes a warranty on parts and labor for all makes/models repaired. We are an insured service provider.
We offer free estimates with repair on most appliance repairs.
Remember – we are the "Original" Chicago Appliance Service –often imitated but never duplicated…

9 Years In A Row and Still Running.
Each year, Angie's List presents its Super Service Award to companies that have maintained a superior service rating. Approximately 5% of companies on Angie's List meet the eligibility requirements. We are proud to be one of them.