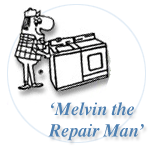 November 2017
Microwaves make it easy to cook and warm many types of food. They get extra use during the upcoming, busy holiday season. There are some things you can do to make sure you can count on your microwave year-round and especially during the holiday season.
Keeping your microwave clean is not only important for food safety and for appearances, but it can help your appliance run more efficiently and prevent damage to the interior caused by burned foods. Avoid using abrasive cleaners, which can scratch the finish, and cover your food when possible to minimize splatters. There are several natural ways to clean microwaves, including using baking soda and vinegar. Be sure to clean the exterior, too, but be careful and don't let water or liquid cleaners get between the touchpad and the machine. Remember to clean the turntable and door glass, and check underneath periodically for fallen food particles.
Don't operate your microwave oven when it's empty. Damage to your appliance can be caused when there's no food or liquid to absorb the microwaves.
When you're in a hurry, it's easy to inadvertently close the door too hard. In addition to damaging the latch and door assembly, you can actually blow a fuse by slamming the door. It's best to cancel the operation or the timer before you open the door to retrieve food. And always remember to use pot holders or oven mitts when touching containers that have been inside the microwave.
If you have a counter or shelf microwave, make sure it's positioned to allow air to circulate freely around it. Avoid crowding the microwave with other appliances, dishes, cookbooks, and other kitchen items. Before purchasing a microwave, carefully measure the space where it will sit and purchase an appropriately sized model for the area.
Plug your microwave into an electrical surge protector, or unplug it when it's not in use. This will help protect the appliance from power fluctuations. Check the electrical cord from time to time to make sure that it hasn't become frayed or cracked.
Did you know that using the pre-set cooking times on the touchpad can actually help your microwave work more efficiently and save energy? It can also help you avoid cooking accidents. Use the pre-set times when thawing foods, too.
Be careful what you put inside the appliance. It's important to use only dishes and containers that are specifically labeled as being safe for microwave use. Avoid putting anything made of metal inside the microwave (especially cutlery) or anything that is covered with aluminum foil.
Listen for unusual noises from your microwave, which may indicate that a belt is failing or that the motor needs to be checked. Pay attention to the buzzer or bell that alerts you when a cooking cycle is finished, and remove the food promptly.
With proper care and use, you should be able to depend on your microwave for many holiday seasons to come.

9 Years In A Row and Still Running.
Each year, Angie's List presents its Super Service Award to companies that have maintained a superior service rating. Approximately 5% of companies on Angie's List meet the eligibility requirements. We are proud to be one of them.