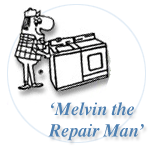 December 2017
Whether you have an electric or gas stovetop, there are some things you can do to keep it in good working condition. This is a good checklist to see if your stovetop is in good shape and to keep it that way.
Make sure the stove and burners are level - It's easy for a free-standing stove to get a little tilted one way or the other, and gas and electric burners can also get slightly tilted out of whack. Check using a plane level to make sure your stove/oven are level and then check burner stands to make sure they are sitting correctly.
Make sure your whole stove is crumb and food-free - we keep the top of our stove clean and polished, but what about underneath the burners? Check the burners and underneath the stovetop (it usually lifts up) and vacuum away old food and crumbs. These can really clog up your burners.
Figure out which burner is strongest - This may be obvious (or not). But the amount of heat (BTUs or watts) your burners put out tends to vary widely from burner to burner. Make sure you're using the right burner for the right job! Use small, wimpy burners for low-heat simmering, and the strongest, biggest burners for longer high heat cooking.
Learn how to diffuse the heat for low-heat cooking - Many gas stoves have problems with simmering and cooking on really low heat. A heat diffuser is an essential little gadget for simmering and low-heat work. They're cheap and easy to use, and your sauces will be much better.
Take Caution When Cooking. Oil, butter and grease can splatter to nearby surfaces, or even worse—on your skin. Lay food down slowly in the pan and distance yourself as much as possible. Avoid putting clothing, potholders or paper towels near the stove top, too, since hot splatters can spark a fire.

9 Years In A Row and Still Running.
Each year, Angie's List presents its Super Service Award to companies that have maintained a superior service rating. Approximately 5% of companies on Angie's List meet the eligibility requirements. We are proud to be one of them.